<![if !vml]>
<![endif]>
<![if !supportEmptyParas]> <![endif]>
<![if !vml]>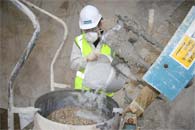 <![endif]>
<![if !supportEmptyParas]> <![endif]>
<![if !vml]>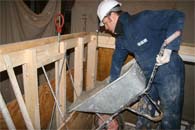 <![endif]>
<![if !supportEmptyParas]> <![endif]>
<![if !vml]>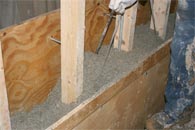 <![endif]>
<![if !supportEmptyParas]> <![endif]>
<![if !vml]>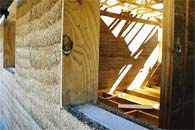 <![endif]>
Return to Homepage
<![if !vml]>
Lime-hemp house in the Eco-village, Cloughjordan
[as featured in Selfbuild Ireland Magazine Summer 2011]
We were chosen as Consulting Engineer for the supervision of a timber framed lime hemp house in the Eco-village, Cloughjordan, Co. Tipperary. This house is one of the first dwellings to be constructed and occupied in Ireland's first eco-village but yet looks no different from a standard construction dwelling.
A standard timber frame was erected to satisfy Building Control, though certain lime-hemp mixtures can be capable of supporting a typical house without a supporting timber structure. A prescribed mixture of lime and hemp was then filled in around the timber frame over the full thickness of all exterior walls, giving 300mm of insulation between studs.
The advantages of a certified lime-hemp build are:
- cheap to build
- no specialist skills required
- materials easily prepared and erected on site
- sustainable materials that can be produced locally
- a good balance of insulation and thermal mass
- British Board of Agrement certification
- Airtight construction without membranes [airtightness (Q50) of 1.3 on first test]


Environmental Benefits:

Lime-hemp mixture is an insulating, breathable building material. It is 100% natural, non-toxic, does not off-gas and creates a high quality, indoor air environment.

Fast growing hemp stores carbon during its growth and releases oxygen into the atmosphere. The overall CO2 balance for hemp-lime products is such that captured carbon is retained within the fabric of a building. Thus, it has the ability to make a very significant contribution in combating global climate change.

Low embodied energy materials with a small carbon footprint such as lime-hemp will be increasingly used in construction. Hemp-lime technology has been used for many years in continental Europe and the UK.
Contact us for guidance on your green build
<![if !supportEmptyParas]> <![endif]>
______________________________________________________________________________
Churchtown Park, Midleton, Co. Cork
m: 087 9746382 fax: 021-4631343
info [at] leahyassoc.com